Within the Kosovo Youth Participation – KYP project, today, the Business Plan/Project Development training was conducted within the framework of the call for applications activity Support of Youth Entrepreneurial Activities.
The training was attended by representatives of businesses led by young people (18-29 years old) and non-governmental organizations (NGOs), from the eight municipalities targeted by the project, thus providing opportunities for both entities. The training aims at building the capacities of the participants in writing business/project plans to create employment for young people and to contribute to ensuring the sustainability of their business/activity. Furthermore, this training offers the opportunity for shortlisted applicants to improve their business/project ideas and thus continue the competition for their selection for financial support.
One of the participants in training said that: "I personally have not received such training earlier as well as I have not had the opportunity to write a business plan myself, but these days of training are helping me understand such a thing and currently write it."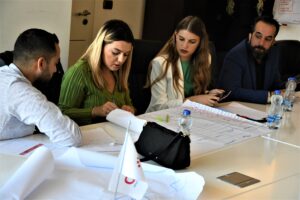 While another participant said: "The training is helping us even more to professionalize our idea and at the same time get more knowledge."
KYP project will support up to five entrepreneurial activities from registered businesses and/or NGOs, with an average grant amount of 8,000 EUR.
This activity is being implemented within the framework of the Kosovo Youth Participation project with the financial support of the European Union.