In the framework of the Kosovo Youth Participation project – KYP, the organization Handikos Gjakova, the beneficiary of the sub-grant from CARE/ KYP Project, today launched the opening of the workshop "We can too" that will operate within its premises. This workshop/program aims at the socio-economic inclusion of the youngsters who are members of Handikos Gjakova. In this workshop, activities will be developed that way that generates income through the production/creation and sale of various decorative products and orthopedic/assistive tools for people with disabilities, as well as with the longer-term goal of creating social enterprises and self-employment of the persons with disabilities, this way contributing to the sustainability of the workshop.
Guest from the local public institution of Gjakova was present: Mr. Kosovar Alija, Director of the Directorate for General Administrative Work, Mrs. Adea Roka, Director of the Directorate of Culture, Youth, and Sports, and Mr. Arber Zhubi, Director of Vocational Training Center who welcomed the initiative implemented through this project, which brings innovation and more opportunities for people with disabilities in Municipality of Gjakova. Also participating were representatives of local businesses who showed their interest in contributing to the distribution and sale of products that will be produced with the equipment purchased from Handikos Gjakova.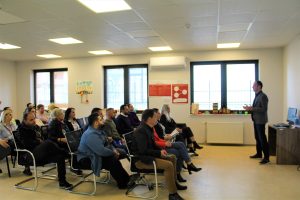 While one of the direct beneficiaries of the project said that such activities, serve the community of people with disabilities to socialize and create more opportunities for participation, thus creating conditions for them to be equal in society.
Handikos Gjakova is implementing the "We can too" project through the scheme for Financial Support for Third Parties.
This activity is funded by the European Union (EU).