Today, on October 6, CARE Deutschland e.V. office in Kosovo with the legal representative Nazlije Halimi, within the project Kosovo Youth Participation – KYP and the Employment Agency of the Republic of Kosovo with acting Executive Director Jehona Namani Rexha, signed a Memorandum of Understanding with the aim of creating a partnership with public institutions, considering the importance of the integration of disadvantaged youth, specifically young women in professional training and employment, inclusion and their development in socio-economic aspect.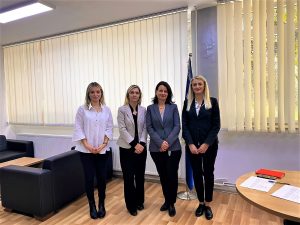 This cooperation is a step forward for the full implementation of the activities within the Kosovo Youth Participation project, which will create opportunities and increase youth employment through:
Paid Internship Program for 50 young people aged (18 – 25); and
Professional Training for another 50 young people from the eight municipalities targeted by the project (Deçan/Dečani, Fushë Kosova/Kosovo Polje, Gjakova/Đakovica, Junik/Junik, Obiliq/Obilić, Peja/Peć, Rahovec/Orahovac and Suharekë/Suva Reka).
Both parties considered this cooperation very important for the professional training and employment of young people with fewer opportunities.
In this meeting, from CARE Deutschland e.V. office in Kosovo were present also Project Manager, Merita Bytyçi Kelmendi and Grants Officer, Gjylymser Nallbani.
This activity is being implemented in the framework of the Kosovo Youth Participation project with financial support from the European Union (BE) office in Kosovo.